5 Digital Marketing Strategies That Will Help Your Business Grow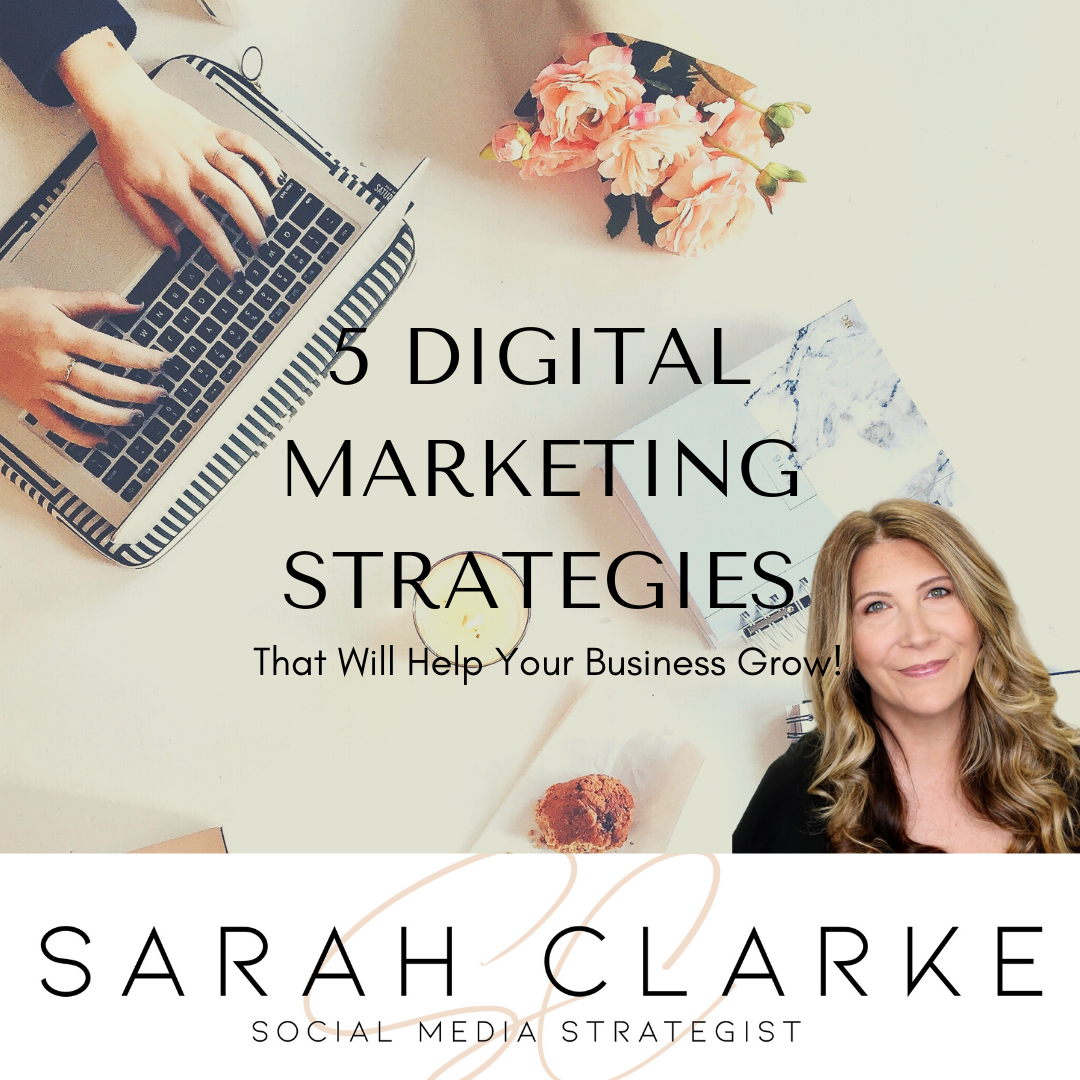 5 Digital Marketing Strategies That Will Help Your Business Grow
A guest article written by Sarah Clarke, Media Strategist and founder of Dufferin Media.
"To build a successful business, you must start small and dream big" – Aliko Dangote
All business owners have dreams.  They dream of success, of growth, of making a difference in their community, perhaps even in the World.  Business owners dream of creating a comfortable and financially stable life for themselves and their families. 
The dreams may be huge and the goals far reaching, but the actions required to achieve success are accessible with smaller and more manageable steps.  Starting small and building a business with steady and consistent strategic growth has a far greater chance at success than a business that does not have such a plan in place.
Here are 5 Digital Marketing Strategies That Will Help Any Business Grow
1.
A User Friendly Website
A website is the most valuable digital asset of your business. Your business website tells the World who you are, what you do, why you do it, where to find you and how to reach you. A professional, user friendly, visually appealing and informative website will not only encourage visitors to stay longer but there is a greater likelihood of converting those visitors into sales leads.  
It is important to carefully craft your website with the user experience in mind.  Make sure the website's navigation is simplistic and that the key pieces of information are easily found. Users need to be able to identify where the pertinent information is and how they are to make contact with you. People become irritated and often leave websites that are not well laid out and hard to navigate. Ensure that your website is easy to navigate and search, make the access to business and contact information easy and obstruction free.
2.
Email Marketing
FACT: 92% of all adults online use an email address.
FACT: Email marketing has the highest Return of Investment (ROI) of any other digital marketing effort, with an average $44 rate of return for each $1 spent.
As your business grows and gains leads, inquiries and customers it also begins to build a valuable contact list of current clients, prospective clients, leads, etc. through the gathering of email addresses.  Subscribing users to your email list is an inexpensive and effective way to build up the business' community.  
An email list is the second most valuable digital asset of your business.  Email marketing is an easy and effective way to stay in touch with your customers, potential customers, and the entirety of the contact list.
Email Lists can be used to communicate through Newsletters or to promote the brand via Product Offers. Many companies will make use of "drip campaigns" for marketing & sales funnels. Drip campaigns are a pre-written set of messages sent to existing and prospective clients, in an effort to generate a better conversion of leads.
Suggested Email Marketing programs that are inexpensive (or FREE) include Mailchimp, Mailerlite, and Constant Contact.  
**Quick Win** Segment your lists into categories and send targeted email messages to certain segments for even better results.**
3.
Social Media Marketing
Social media marketing is the number one most effective way to spread the word about your business.  Platforms such as Facebook, Instagram, Twitter and LinkedIN are effective ways to grow awareness, share information about your business and quickly reach a large number of people – including your potential ideal clients.  
These platforms have millions of users and implementing a social media marketing strategy has many benefits. The key to success on social media is consistency.  From the Profile Photo, to the words in your bio, to your colour scheme, to your messaging and the frequency of your posting schedule. Consistency across the board is paramount to your Social Media Marketing Strategy. A Social Media Content Plan helps to organize and schedule communication to provide the consistency required to build audiences and engagement. The 30/30/30 Posting Rule is a great one if you are unsure of what to share or are looking for an easy approach to posting consistency.  
30% of your posts – Sales Related
30% of your posts – Informative
30% of your posts – Social
Even if you are only posting three times a week, it works: 1 Sales post; 1 Informative post; 1 Social post.
Lastly, don't forget to be "SOCIAL; Engage, Engage, Engage."  Ask questions, post responses, share and comment on other account posts. The more you engage the more you carve out a community, the more you grow a community to more you strengthen your audience.
***Quick Win***Don't be afraid to "pay to play" when it comes to social media.  Even a small paid boost on Facebook can generate far greater results than a traditional print or radio ad that will cost your business far more money.***
4.
SEO Search Engine Optimization
FACT: Google processes over 3.5 billion searches per day.  
FACT: 46% of all Google searches are for LOCAL information – for example, how to find a local business.  
Search Engine Optimization (SEO) is the ongoing marketing efforts that enable your business to be discoverable in search engine results. The importance of the quality of searches from Google ultimately results in more traffic to your website. Website traffic is important for developing customers, revenues and profits.
SEO can be overwhelming and very technical.  There are over 200 known ranking factors that Google takes into account when "deciding" which results to show.  You may consider hiring a professional team, such as those at Dufferin Media, to manage your SEO and can expect to pay about $200 to $500 per month for local SEO Management
.  
SEO for your business may include tasks such as:
Keyword research

Onsite SEO tasks such as optimizing ALT Tags and Meta Tags

Offsite SEO tasks such as directory submission or backlink building
5.
Blogging
Including a blog strategy in your digital marketing efforts helps to achieve many business targets and goals. A blog strategy is a great way to generate content on a consistent basis while supporting the website, social media, and email marketing strategies and efforts.  Blogs are a powerful way to help build your SEO rankings and show your audience that you are informed and knowledgeable.  Depending on your niche market and/or readership, you may choose to refer to a blog post by a different designation, such as an "Article" or "News".
A blog post becomes a long term piece of content on your website, one that can be repurposed again in the future. Repurposing content is formally referred to as "Evergreen" content. Evergreen content can be content that is seasonal, timeless, relevant and relatable; content that can be used over and over again, often with fresh images and a quick edit and polish. With this approach one blog can generate 5 or more social media posts, and be reshared for years ahead.
As business owners we understand that there are small tasks that happen every day that help to move the business forward. That forward movement is the growth towards your dreams. The digital marketing foundations of your business needs to be firmly established and coupled with a social media strategy that is consistent and engaging; that is my proven recipe for success. How will you implement these 5 Digital Marketing Strategies That Will Help Your Business Grow?